Suited: Band Van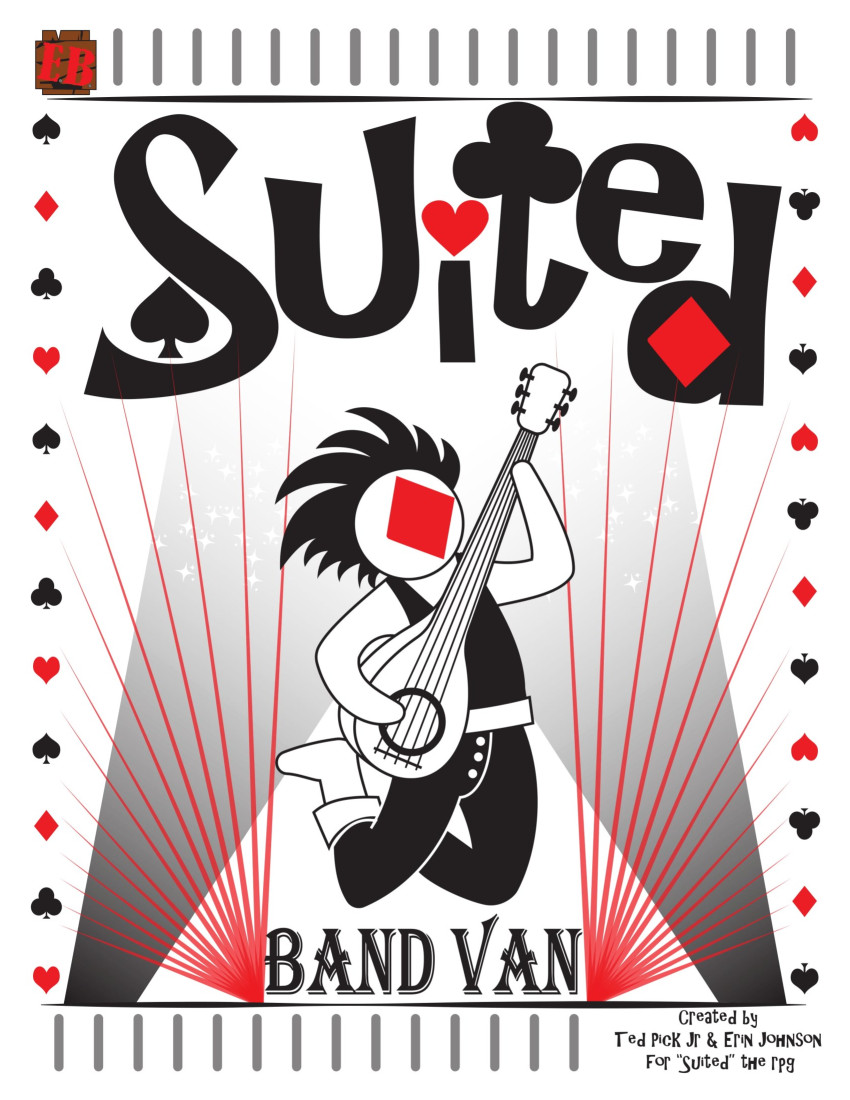 In Band Van for Suited: The RPG, players take on the role of musicians, roadies, lyracists, and managers trying to take their band from relative obscurity into the spotlights of the music industry. Players will have to come up with a band name, find a gig, and then overcome adversity to perform at the gig and make it big! This playset was inspired by the real-life stories of performing groups like The Beatles, Queen, Pink Floyd, R.E.M., Sonny & Cher, and so many more than we could list. We also wanted to touch on the less serious band stories of movies like Rob Reiner's This is Spinal Tap, Richard Linklater's School of Rock, and Liam Lynch's Tenacious D in the Pick of Destiny. No matter how serious, or comical, of a story you are looking to tell about your up-and-coming band, we hope that you enjoy Band Van.
Also included in this supplement is an article about the "House of Cards Story Flow Method". The House of Cards story flow method takes your randomly generated mission and plugs it into a forumula that results in a 3-4 hour session. This formula is designed as an aid to game masters for when Creativity and Improvisational skills are failing, and should not be seen as the only way to play Suited.
*** This supplement is a pre-release that we wanted to make sure got added into the Quarantine Boredom Relief Bundle. As such we released it before receiving some of the artwork we were waiting on, resulting in pages with large blocks of text, and other pages containing more white space than we would like. Once the artwork is received we will update the file and let everyone know! ***
This expansion is played using the rules found in Suited: Free Sample Edition, a tabletop rpg quickstart for the Suited game system.
Suited is an adaptable game system that can be used to play any genre you want with as little as a single deck of playing cards. Rules-light with only a moderate amount of crunch, Suited is easy for new players to pick up and learn, while having just enough rules for those people that enjoy having mechanics to play with.
Purchase
In order to download this game you must purchase it at or above the minimum price of $1.28 USD. You will get access to the following files: