Suited: Booster Pack #1

Suited: Playset Booster Pack #1 is the first expansion for the Suited Roleplaying Game, containing all that you need to play three brand-new playsets:
Pelts – In Pelts you take on the role of Anthropomorphic animals that must set out on an epic quest to retrieve a lost relic of bygone heroes in order to save your home from the villainous hordes attacking it. The setting is loosly based on a Middle Ages level of technology and is designed to evoke the feeling of childhood classics like the Redwall Series by Brian Jacques, The Rats of NIMH by Robert C. O'Brien, the Warriors Series by Erin Hunter, and The Wind in the Willows by Kenneth Grahame.
Space Time – Welcome to the Away Team Sailor! In Space Time you take on the role of shipmates that work aboard a Universal Peacekeeping Corps Starship. You have been sent to an alien planet to help deal with a crisis that has popped up, but weird and annoying disturbances keep interrupting your progress. Can you solve the crisis and deal with all of the disturbances without ended up dead? Good luck, and here's hoping your uniform isn't red! Space Time is meant to evoke the feeling of classic exploration science fiction and space operas such as the Star Trek Series by Gene Roddenbury, the Farscape Series by Rockne S. O'Bannon, and the Battlestar Galactica Series by Glen A. Larson.
Wuxia Gushi – Translating literally as "Martial Heroes Ancient Poetry", Wuxia Gushi places you in the position of a highly trained martial artist that finds themselves caught up in a sudden journey through Ancient China escorting a very valuable relic. This genre playset is not designed for people looking for a realistic and serious game, but is more designed to evoke the feeling of Stephen Chow's Kung Fu Hustle, Journey to the West by Wu Cheng'en, and Ang Lee's Crouching Tiger, Hidden Dragon.
The Playset Booster also contains a section on running the game as the Gamemaster with advice, tips, and tricks on taking the randomly generated scenarios created by the Mission Generation Tables for each playset and turning them into a fun and engaging 4-hour one shot.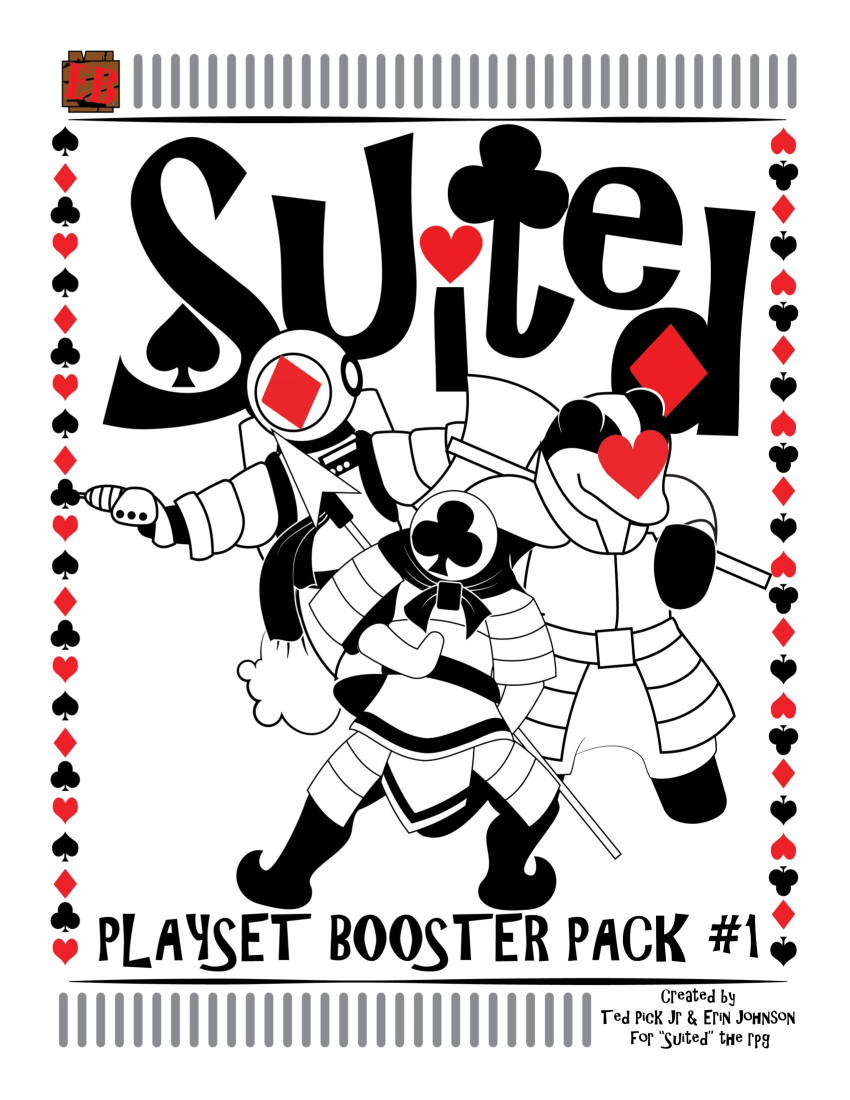 Front cover for Suited: Booster Pack #1. Image shows an anthropomorphic badger with a large heart on its face, a figure wearing samurai-style armor and a large club-symbol on their face, and a figure in science fiction space attire with a large diamond-symbol on their face.
~~~~~~~~~~~~~~~~~~~~~~~~~~~~~~~~~~~~~~~~~~~~~~~~~~~~~~
This expansion is played using the rules found in Suited: Free Sample Edition, a tabletop rpg quickstart for the Suited game system.
Suited is an adaptable game system that can be used to play any genre you want with as little as a single deck of playing cards. Rules-light with only a moderate amount of crunch, Suited is easy for new players to pick up and learn, while having just enough rules for those people that enjoy having mechanics to play with.
Each of the genre playsets comes with tables for random character creation and world generation, as well as a quickstart adventure fill-in-the-blank forms for getting the rough outlines of a one shot game designed.
Purchase
In order to download this game you must purchase it at or above the minimum price of $1.28 USD. You will get access to the following files:
Suited Playset Booster Pack #1.pdf
3 MB