Suited: Booster Pack #2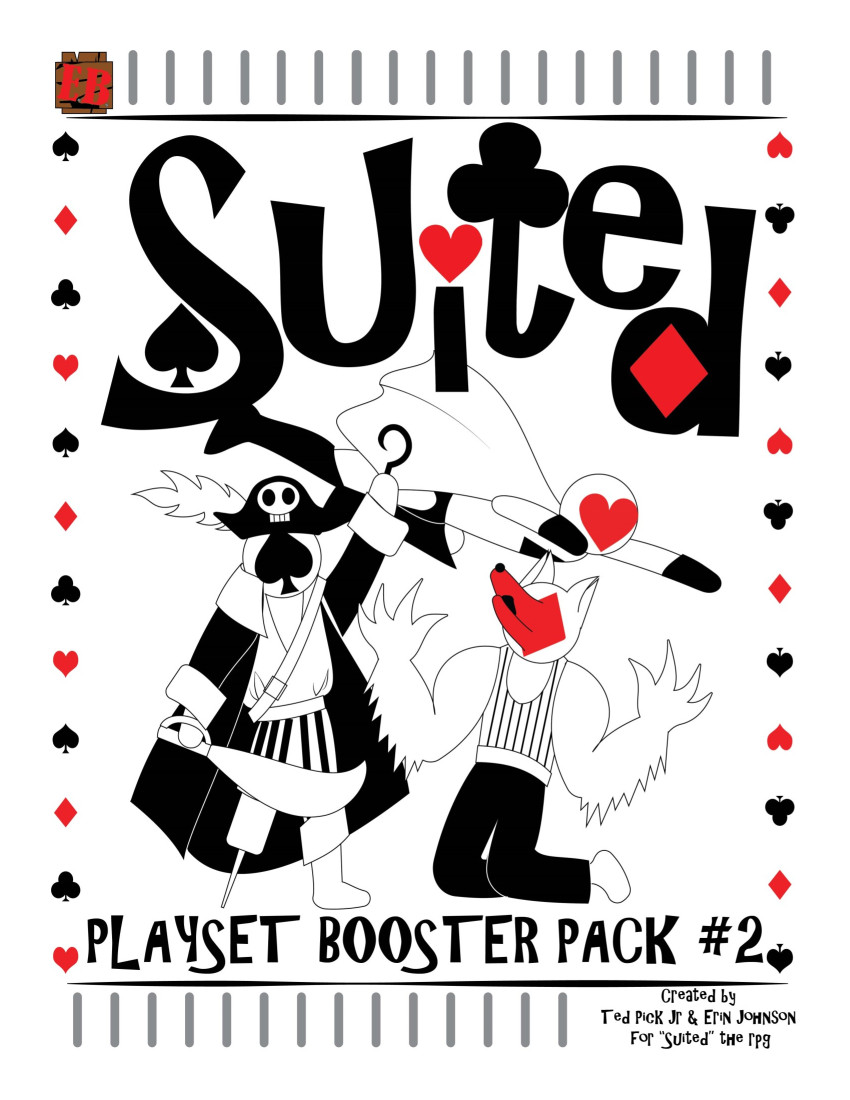 Suited: Playset Booster Pack #2 is the second expansion for the Suited Roleplaying Game, containing all that you need to play in three brand-new playset worlds:
Plunder – In Plunder you are the crew of an irreputable pirate ship that has suddenly found itself in possession of a valuable cargo, surrounded by a sea of trouble, trouble, and even more trouble. The Plunder playset is designed to mimic the high-stakes adventures and mystical mayhem that takes place in Pirate adventures like Disney's Pirates of the Caribbean Trilogy, the Liveship Traders Trilogy by Robin Hobb, and Robert Louis Stevenson's Treasure Island.
Super Powered – In a world filled with dangerously smart, dangerously powered, and dangerously devilish and dastardly villains, only your crew's dashing and daringly dramatic actions . . . and large amounts of property damage can save everyone's lives! In the Super Powered playset players take on the role of superheroes and do-gooders that have to save the day from equally powerful and deranged villains. This playset is best suited for those who wish to play a game evoking Disney's The Incredibles, DC's Detective Comics, and the high-octane action of Disney's Marvel Cinematic Universe.
In the Shadows – For centuries humans have talked about creatures that live in the darkness, shadows that move in the corner of their eyes, of powerful predators that feed on their blood, and of mystical creatures that beguile and bewitch. The In the Shadows Playset is focused on the creatures of these tales and of the conflict that arises when they come into conflict with each other. This playset is for the fans of Danny McBride's Underworld Movies, the tongue-in-cheek all out action of Stephen Sommers Van Helsing and Ehren Kruger's The Brothers Grimm, or the solemn horror of Bram Stroker's Dracula.
The article at the end of this expansion walks Gamemasters through some potential scenarios that they will encounter when running a game of Suited and suggests ways to handle them. We also included tables for randomly assigning skills and Roleplaying Descriptors to sentient NPC's, a table for creating random beasts (some quite fantastical) to threaten your players with, and three location tables that are split between the present and the past.
This expansion is played using the rules found in Suited: Free Sample Edition, a tabletop rpg quickstart for the Suited game system.
Suited is an adaptable game system that can be used to play any genre you want with as little as a single deck of playing cards. Rules-light with only a moderate amount of crunch, Suited is easy for new players to pick up and learn, while having just enough rules for those people that enjoy having mechanics to play with.
Each of the genre playsets comes with tables for random character creation and world generation, as well as a quickstart adventure fill-in-the-blank forms for getting the rough outlines of a one shot game designed.
Purchase
In order to download this game you must purchase it at or above the minimum price of $1.28 USD. You will get access to the following files:
Suited Playset Booster Pack #2.pdf
3 MB