Suited Themes: Action Hero Agents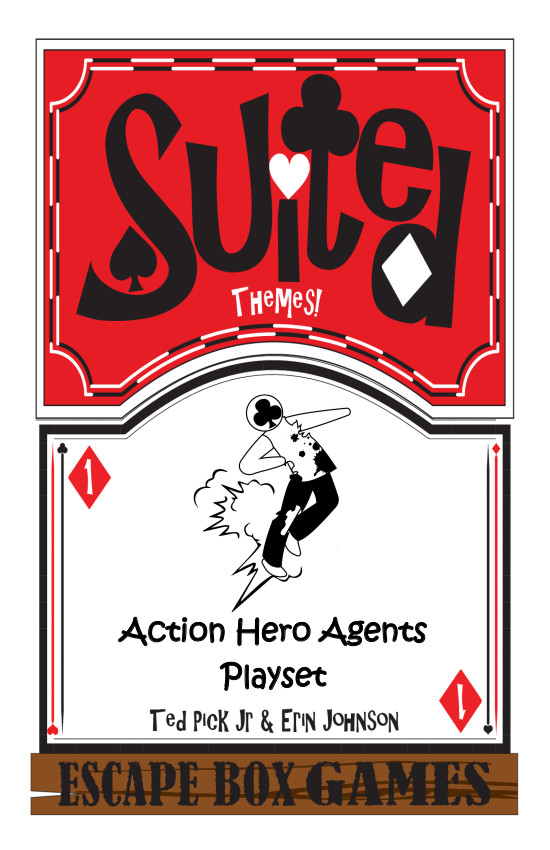 In this supplement for Suited: RPG players take on the roles of Action Heros, Spies, and Regular Everyday people that find themselves drawn into an elaborate and complicated plot by a villain... a plot with world-wide implications! Can the Agents acquire the MacGuffin the villain needs before the villain does? Can they stop the catastrophe on the horizon?
Included in this Playset:
A Suited take on the Spycraft Action Genre
A Character Generation Table for Making Action Hero Agents
A Random Adventure Generation Table for creating a fast one-shot spycraft adventure
If you are looking for ideas on how to play in or run an Action Hero Agents game be sure to check out these entries in the genre:
Mission Impossible Series, created by Bruce Geller
James Bond Series, created by Ian Fleming
The Avengers, directed by Jeremiah S. Chechik (1998 movie)
The Kingsman Movies, produced by Matthew Vaughn
*** Content Warning! ***
We try to make all of our games family friendly and potentially fun for everyone, but action movies tend to vary into dark areas. Be sure to speak as a group about what you are and aren't comfortable with in the game. If the group cannot come to an agreement on what is allowed, then we highly suggest looking at one of our other genre playsets.
*** Content Warning! ***
Thank you and enjoy!
This expansion is played using the rules found in Suited: Free Sample Edition, a tabletop rpg quickstart for the Suited game system.
Suited is an adaptable game system that can be used to play any genre you want with as little as a single deck of playing cards. Rules-light with only a moderate amount of crunch, Suited is easy for new players to pick up and learn, while having just enough rules for those people that enjoy having mechanics to play with.
Purchase
In order to download this game you must purchase it at or above the minimum price of $1.28 USD. You will get access to the following files:
Suited Themes: Action Hero Agents
1 MB