Suited Themes: Fantasy Hoopla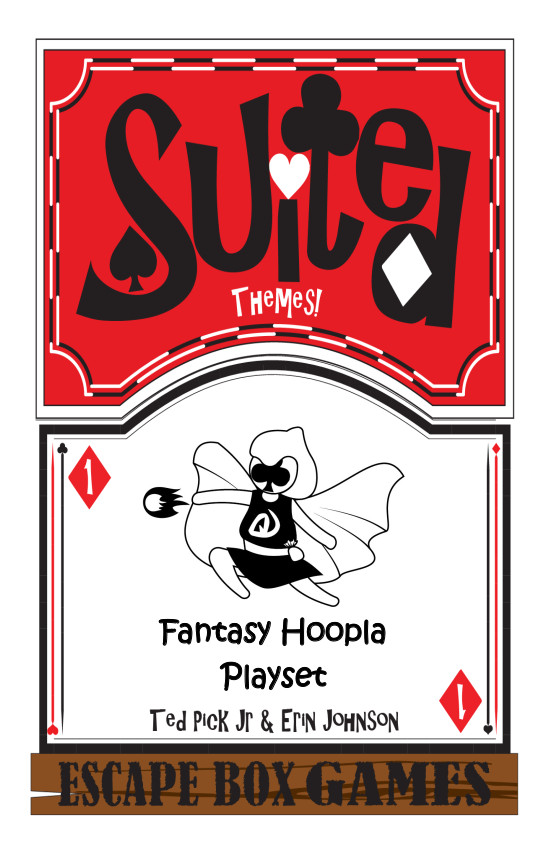 The Theme for May 2020 is Fantasy Hoopla, a Classical Fantasy playset in the same feel as other namebrand tabletop roleplaying games. From starting in a Tavern to high-flying adventure amongst floating cities, delving deep into a city's sewer system, and even scouring deadly subterranean caves, we've focused on hitting all of the classical tropes!
Included in this Playset:
A Suited take on Traditional Fantasy Classes
A Character Generation Table for Making a Fantasy Adventurer
A Random Adventure Generation Table for creating a fast one-shot fantasy adventure
One thing you may notice is the lack of Fantasy Races in the character creation section. This is intentional. There are so many fantasy races that exist out there, some copyrighted and other not, that we couldn't choose just thirteen to represent. In this case we want the players to choose their own races. You can use it as a skill if you wish, or just have it be a flavor effect, but your race and species is up to you!
If you are looking for ideas on how to play in or run a Fantasy Hoopla game look no further than:
The Lord of The Rings, directed by Peter Jackson
Labyrinth, directed by Jim Henson
Willow, directed by Ron Howard
Record of the Lodoss War, written by Ryo Mizuno
*** Content Warning! ***
We try to make all of our games family friendly and potentially fun for everyone, but we did include references to drinking, larceny, and physical violence. If this does not work with your idea of what to expect then we highly suggest looking at one of our other genre playsets.
*** Content Warning! ***
Thank you and enjoy!
This expansion is played using the rules found in Suited: Free Sample Edition, a tabletop rpg quickstart for the Suited game system.
Suited is an adaptable game system that can be used to play any genre you want with as little as a single deck of playing cards. Rules-light with only a moderate amount of crunch, Suited is easy for new players to pick up and learn, while having just enough rules for those people that enjoy having mechanics to play with.
Purchase
In order to download this game you must purchase it at or above the minimum price of $1.28 USD. You will get access to the following files:
Suited Themes: Fantasy Hoopla
1,014 kB