Suited Themes: High School Jokers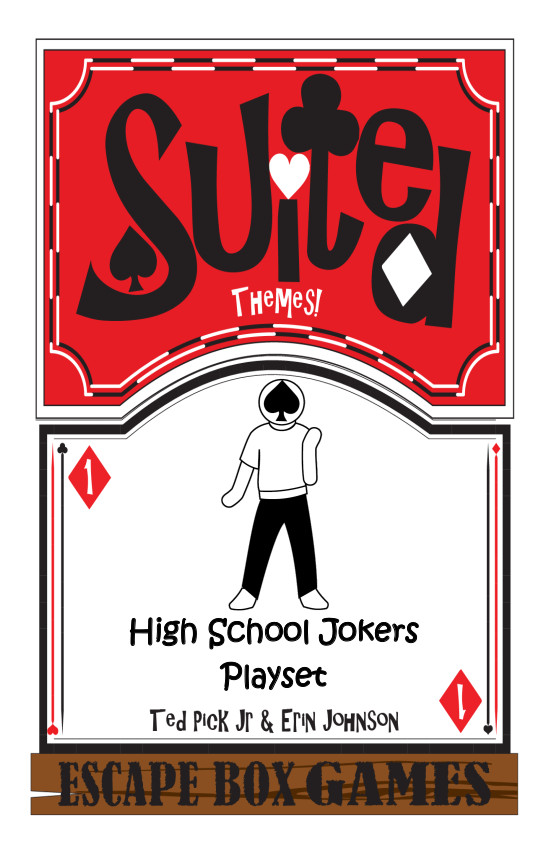 High School Jokers is a tongue-in-cheek playset that explores the tropes of angst, drama, over-the-top theatrics, and teenage hormones that are commonly portrayed in films, shows, books, and comics all over the world. We tried to keep everything relatively tame and down to Earth as far as the potential outcomes with the mission generator, but if you want to turn your story into something spooky or supernatural then feel free! We just have plans for a much more involved Playset that focuses on Teens Vs Monsters.
If you are looking for ideas on how to play in, or run a High School Jokers game look no further than:
The Breakfast Club, directed by John Hughes
Riverdale, developed by Roberto Aguirre-Sacasa
Superbad, directed by Greg Mottola
Ferris Bueller's Day Off, directed by John Hughes
*** Content Warning! ***
We try to make all of our games family friendly and potentially fun for everyone, but to be faithful to the Stories of High School Rebellion and Exploration we did include references to smoking, drinking, larceny, dancing, and potential physical violence. If this does not work with your idea of what to expect then we highly suggest looking at one of our other genre playsets.
*** Content Warning! ***
For those who have already graduated, we hope that this playset helps you re-live your high school dreams, and for those that have yet to graduate . . . please don't use this for ideas or inspirations for Senior Year Pranks . . . Please?
Thank you and enjoy!
This expansion is played using the rules found in Suited: Free Sample Edition, a tabletop rpg quickstart for the Suited game system.
Suited is an adaptable game system that can be used to play any genre you want with as little as a single deck of playing cards. Rules-light with only a moderate amount of crunch, Suited is easy for new players to pick up and learn, while having just enough rules for those people that enjoy having mechanics to play with.
Purchase
In order to download this game you must purchase it at or above the minimum price of $1.28 USD. You will get access to the following files:
Suited Themes: High School Jokers
1 MB